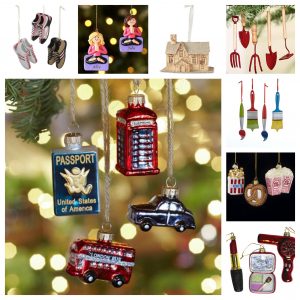 In The Holiday, two women house swap to get away from their lives. I love this romantic comedy because it has so many themes that I'm passionate about: the entertainment industry, travel, romance, and entrepreneurship. I can watch it over and over, which is exactly what I did yesterday which made me think of this blog topic…
I know, I know, it's not even Thanksgiving and I'm already talking about Christmas, but hear me out because this is time sensitive. The holiday season is a great time to network and introduce new people to your business, but sometimes getting people to come out for another party is a challenge. Therefore, I came up with some ideas to get people interested in your event with a little "what's in it for them."
1. Have a business branded tree-trimming party. If you're a landscaper, travel agent, yoga instructor, beauty consultant, entertainment industry professional, real estate agent, fitness trainer, artist, etc, there are ornaments that target your business. Google "your industry" + ornaments and see what comes up for sale. Purchase a few and then invite your friends and family to a tree trimming party asking each to bring an ornament that is tied in to their business (you can share some pictures as examples). This will be a great reason to get people talking about their business. You can even have them do a one minute introduction before they put their ornament on the tree.
2. Have a White  Elephant "Business" Gift exchange party. A white elephant gift exchange is a party game where white elephant gifts are exchanged during festivities. The goal of a white elephant party is usually to entertain rather than to gain. The twist I'm suggesting is that everyone brings a gift from their business; a travel voucher/incentive (travel agent), a skincare product (skin care consultant), a yoga class coupon (yoga teacher), a 30 minute personal training certificate (personal trainer), great smelling candle (real-estate agent), 30 minute portfolio evaluation (financial advisor), $30 coupon for hair services (hairstylist). The fun comes from people being able to steal gifts from each other (you can google the rules).
3. Have a Gift Grab party. I just had one of these and it was so much fun! Reach out to business owners who have different products in price ranges from stocking stuffer to mega gift. Put together an invite with the different vendors and then have everyone invite their friends and families to support local business owners. Invite guests to bring their business cards as well and then organize a speed networking element of the party where people can each get a minute to say what they do, who their target market is, and what kinds of referrals they are looking for, switch partner and then the inner circle takes a step to the right and the process starts again until everyone has met and exchanged cards.
People are generally in great spirits during the holidays, so get them together and build your network while you're supporting their businesses. Or you can just swap houses with someone in another country and see if something magical happens.