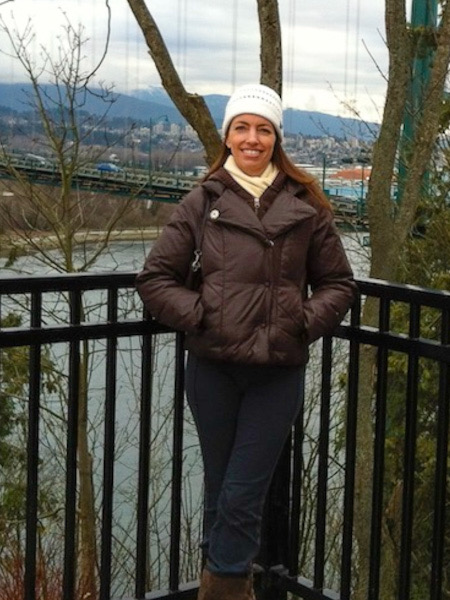 THE ADAM PROJECT starring Ryan Reynolds takes place in Vancouver. What I love about this movie (including the beauty of Vancouver) is the time travel aspect. I'm always fascinated by movies that allow for characters to grow while traveling through time.
Imagine you are 90 years old; you are healthy enough with the mindset to give your present self advice. What are 5 -10 things you'd say to yourself?
Here's how I did this exercise. I closed my eyes, got into a mediative state, and imagined myself at 90 (surprisingly, I was not still coloring my hair). I sat down on the couch with my future self and said, "Give it to me straight. I'm turning 55 this year, what do I need to know?"
My white-haired self looked back at me and said, "By the time you turn 75, you are not going to give a da*n, you always give it straight, so don't wait until you're 75. Be straight with people now. Don't get any unnecessary surgery, I know your neck bugs you, but you are getting older, no one expects you to have the neck of a thirty-year-old, and if they do, stop hanging out with them. You are lucky to live as long as you have, many people don't get that opportunity, so instead of focusing on what's different now that you're older, accept that it comes with the privilege of aging. You have impacted the lives of over 1 million people, so you can stop working so hard and trust that if you're doing what makes you happy, your desire to help others will come to fruition in ways you can't imagine. Come back and visit me anytime."
I'm cool at 90! I'll never be as cool as Ryan Reynolds, but hey, my 90-year-old self will tell me I don't need to be, he has his own unique purpose… and so do YOU, my friend! Please try this exercise for yourself and let me know what you think.
Vancouver: A hotel. A restaurant. A landmark. An excursion.
A hotel: Sutton Place
5-star hotel• Eco-certified
845 Burrard St, Vancouver, BC V6Z 2K6, Canada•+1 604-682-5511
I felt pampered from the moment I walked in the door. I LOVE 5-star hotels and this one is at the top of my list. The room is so plush! Many actors, who fly in from LA & NY for work stay here, so hanging at the bar you may have a sighting (I did)… but please, respect their privacy.
A restaurant: Room Service at Sutton Place
This particular trip was for work and a quick visit so I spent all my meals in my room and the extra touches make you feel like you're at a fancy restaurant.
A Landmark: Olympic Village
Olympic Village is located along the Seawall, the 28 km path that is popular for both walking and cycling. Head north and then west along the northern shore of False Creek and you can go all the way to Stanley Park and Coal Harbour.
An Excursion: Granville Island
A magical escape withing the city. It has a great public market, retail stores, galleries and studios. And yes, I watched men through fish like they do in Seattle.