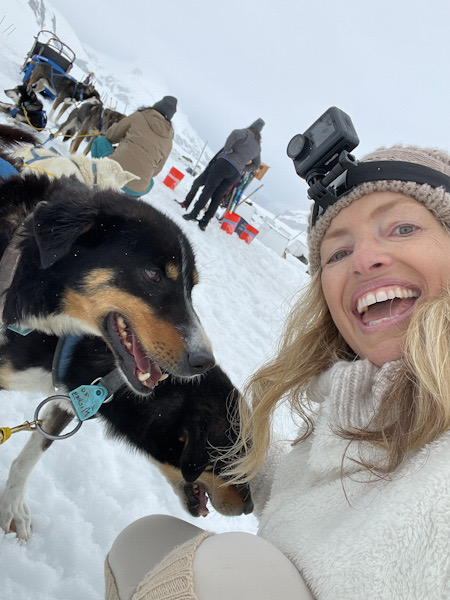 Does entertainment affect my Wanderlust? You bet!!! A few months ago, I was watching Eugene Levy on his Netflix series, The Reluctant Traveler. Watching a 75-year-old man dog sledding and learning about the care of the dogs and how they are bred for sledding and love what they do, made me want to cuddle the dogs and get on a sled. Last week, I checked that off my Book-it list.
That's not where it ends for me though… Hallmark movies; predictable- YES, happy ending- ALWAYS, love in Alaska, Iceland, Rome, Africa and 50 other places I now want to go- YOU BETCHA! Wanderlust!  
No more Bucket-lists for me! I watched my parents save their money for travel later in life and while they did a bit of US travel, other than 1 cruise they are now at the point that they are not able to go to those Bucket List desires.
Now I have a Book-it list! My plan is to check at least 1 or 2 places a year. I want to enjoy travel while I'm healthy and able to do exciting, interesting or adventurous excursions. I'm seeing a cool trend where parents are offering their kids the experience of travel instead of expensive parties. The kids are choosing travel!
And now, one of my stops in Alaska…
Juneau: A hotel (on water). A restaurant. A landmark. An excursion.
A hotel: Princess Cruise the Majestic Ship
Personally, I recommend the Dolphin floor (9th) because you are closer to the water with phenomenal views of the glaciers, whales & otters from your balcony… warning, once you go balcony you never go back. I loved the spa, had the week pass at the thermal Lotus spa, booked a 75-minute massage every other night, and spent everyday meditating in the sauna with the twinkle light ceiling. Cruising gives you the opportunity to go to multiple destinations while only unpacking once.
A restaurant: Alaskan Fudge Company
What do you mean it's not a restaurant? I ate enough fudge to take the place of lunch! I also watched the owners make peanut brittle… okay if you must know, I brought a box home and ate it for breakfast (doggie bag like a restaurant)
A Landmark: Patsy Ann Dog Statue
Patsy Ann was a legend on the docks. I won't spoil the story for you, but I will tell you that she touched so many lives that when she passed hundreds of people sent cuttings of their own dogs' hair to be mixed into the statue.
An Excursion: Helicopter to a Glacier for a Dog Sled Ride  
Thanks Eugene Levy! If I hadn't seen your show, I would not have gone on this excursion, and it was one of the greatest days of my life. Seeing the glacier from the sky, was a gorgeous view of the brilliant blue coloring that glaciers are famous for. Learning about the dogs, their treatment, and their love of their "job" gave me the bravery to be the volunteer to be the person who stood on the back of the sled rather than sitting down.
Ps… if the thought of travel or excursions scare you, stay tuned for my next blog where I will address how I overcame my lifelong fears and anxieties around travel.