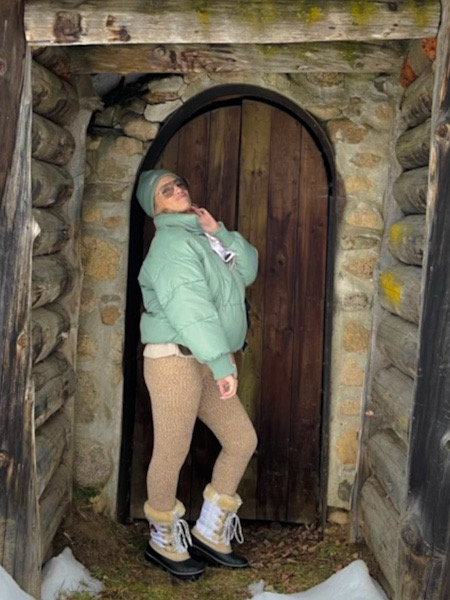 Last night I had a dream that I was visiting a new city, it was glamourous, and the architecture was stunning. But then, as my dreams usually do, it took a very anxiety ridden turn. I found myself in different places with different people, all who were trying to help me get back home. In my head I knew where my home was, but I couldn't remember the actual address for them to drive me or put in a GPS. It was so confusing not remembering the name of even the city where I lived. There was nothing in my bag with my address, though it felt like the answer was on the tip of my tongue. I got more and more scared and frustrated as suddenly I would remember the address but a second later, I would forget it. The dream was far too detailed to go into here, but I bring it up because in the dream I kept saying to people, this must be how my mom feels (she has mild dementia). My alarm woke me during the dream, so the intense feelings I was experiencing were overwhelming me, so much so, that I actually pinched myself to make sure I wasn't still in the dream.
I'm sharing this with you because I believe I was given a gift through this dream. I believe I have true insight to how my mother feels when she can't remember something that she knows she should know. This will help me be more compassionate in my caretaking. It is a horrible disease and now I have the slightest insight to what it feels like… and perhaps my own future.
Which is why, I'm obsessed with traveling, because I want to see everything I can before I can't. And I want to take thousands of pictures, so even if I don't remember that I took them, I will still enjoy looking at them, the way my mom does when I share my photos with her.
Today, I will share with you a magical place I've been to twice in the past two years.
Quebec: A hotel. A restaurant. A landmark. An excursion.
A hotel: Fairmont Le Cháteau Frontenac
1 rue des Carrières CITQ No. 040703, Québec City – Quebec G1R 4P5, Canada
I was here at Christmas and experienced the locally decorated trees from various companies. The hotel is elegant with a reminiscence of historic Europe. It is definitely luxury with a fabulous restaurant.
A restaurant: La Maison Du Bootlegger
What a fun night! Everything about this former "Speakeasy" is a adventure, from learning the secret escape routes, to seeing Elvis' signature on the wall, to the way the food is served. With winding staircases and collapsible windows, dating back to 1860 prohibition, and fabulous food and drinks, this is a unique experience that you must have!
A Landmark: Quebec City
I know, it's a broad landmark, but going down the main street of Quebec City is like living in a Hallmark Christmas film… if I didn't know Santa lived part time at the North Pole and part time in Alaska, I'd believe he was behind one of those closed doors. Interesting shopping, good restaurants, and a rom com "cute meet" waiting to happen.
An Excursion: Charlevoyou Farmhouse
Off the beaten path in Charlevoix, just an hour from Quebec, yet quite close to a Club Med ski resort, is a farm where the Migneron de Charlevoix family has been making cheeses for almost 30 years. I met the next generation who have integrated wines & spirits from the waste of the cheese… how cool is that? And delish! The tour and tastings were one of those experiences you're so glad you had!