Please Check Your Email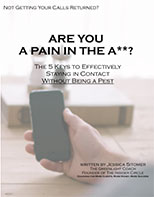 To comply with privacy law, we require you to confirm your email.  Please check your email, and click the confirmation link.
If you do not see the email, you may need to check your spam folder.  If you have not received an email within 2 hours, please contact me.
About The Author
The term that best describes Jessica Sitomer is "Passionpreneur." She successfully runs multiple businesses, including a career in the entertainment industry spanning over 20 years. She works as an actress, host, writer,and has produced a sitcom pilot and two television series; Prescriptions, a show within a show for MTV, and Lights, Camera, Action, a reality show that is Top Chef meets The Apprentice for entertainment industry professionals.
As an in-demand speaker, Jessica is the go-to gal for entertaining, inspirational, and informational talks. Her 1000+ international speaking engagements, keynotes, and trainings have helped audiences with business productivity, mindset success, and implementable strategies for achieving their dreams. She is the author of two other books, including, "And.. Action, Powerful, Proven, Proactive Strategies to Achieve Success in the Entertainment Industry. "Jessica focuses on living a balanced life of success, family, friends, health, and happiness.  She is very blissed.
What Others are Saying About Jessica's Book – From Burnout to Bliss
"If you're ready to positively transform your life, then read and absorb the strategies in this brilliant
book by my friend Jessica Sitomer! Jessica truly cares about helping others and her ideas will make a
positive difference in your life!" – James Malinchak, Featured on ABCs Hit TV Show, "Secret Millionaire", Author of the Top-Selling Book, Millionaire Success Secrets, Founder, BigMoneySpeaker.com
"What I love about From Burnout to Bliss is that it's so much more than productivity, it's layered, deep and profound. When you're stressed out (and even to avoid getting there) Jessica breaks it down action-step after action-step to help you through the process. The exercises are excellent and from page one you know there is a light at the end of the tunnel. She attacks stress from every angle so it simply cannot hide. From Burnout to Bliss will give you access to mental, physical and productivity transformation." – Pina De Rosa, Intl. Keynote and TEDx Speaker, M.C.Ht. Results Coach, Producer PinaDeRosa.com
GratitudeInternational.com
SniffingOutCancer.com 
"Burnout to Bliss is a transformative journey Jessica Sitomer guides you through to bring you out of any funk and into a happy, productive and healthy person. If you take the actions in Burnout to Bliss, your life will be transformed." – Jona Xiao, Actress, jona-xiao.com
"Burnout to bliss" is a great book for how to get back in the groove, connect with your inner core, deal with inner and outer obstacles, and forgive and move on to be a better person.The book is structured as a 12 week guide with daily exercises making it very easy to follow. For me, who was once burnt out, I really appreciated the "how-to" guide because sometimes it is the only thing one can handle. Thank you Jessica for writing a book with so many invaluable exercises that help people break bonds and self-imposed limits! This one is a keeper! " – ViviAnn Labba Klemensson, Author, Coach & Consultant, ViviAnnLabba.com
"Oh my gosh, GREAT book!! I love how the earlier chapters prepare the reader for the later ones. This way we stay engaged and look forward to what is next. Jessica's tone is personal so we feel like she is our mentor or friend walking us on the path through the difficult task of going from Burnout to Bliss. In short: Excellent!" – Louis Gittens, louisgittens.com
"Jessica has a way of moving words through you rather than just to you. If you've been on the stress highway to success and find yourself struggling to balance your life, Jessica has the formulas to help you heal your mind and body. Jessica's words will resonate with you because she shares how she triumphed over her personal challenges." – Coach Sherry Winn, Two-time Olympian and National Championship Basketball Coach, The Originator of the WIN Philosophy and WINNER Principles coachwinnspeaks.com