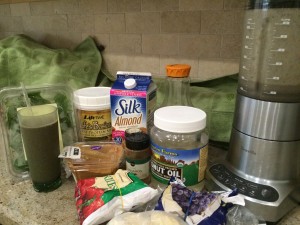 I will never forget the first time I tried a green drink at a well-known Market.  The smooth green goodness was healthy and delicious… it was also seven bucks! More than the money, I was not about to go to the store everyday to buy a green drink… I'm not a fan of food shopping, so I shop as little as possible.
Two years went by and I'd forgotten all about green drinks until my best friend and Rodan + Fields business partner Andrea, turned me back on to them. I spent a 5-day weekend at her home and she made them everyday in a cool blender that even cleaned itself! My blender is pretty cool, but it has not yet learned to clean itself, though cleaning my blender is easy enough (under a minute so I'm good).
Now green drinks are a part of my 'almost' every day life. My mom loves them too… my dad kind of suffers through them to make us happy (he's not fond of the thick texture).
I make a variety of green drinks depending on what fruit is falling from the trees (recently there were a lot of mango smoothies), or what the neighbors bring over from their garden (love fresh kale).
But today, I'm going to share my "Go-To Green Drink Recipe"
Here are the ingredients:
1. Almond milk (for protein)
2. Fresh pressed peanut butter (for the protein)
3. Protein powder (I like this brand because it's gluten free, and has extra healthy ingredients like hemp and chia seed)
4. Greens (I go back and forth between kale and spinach)
5. Frozen blueberries
6. Frozen strawberries
7. Frozen bananas (originally fresh, but I let them get to the brown mushy state, because I heard that was healthier… then I freeze them)
8. Cinnamon (I read it counters sugar spikes)
9. Cayenne pepper (just a dash, because I believe it kills germs in my body… don't tell me if that's not true because believing it is causing a placebo effect and I don't get sick)
10. Flaxseed (I grind it up and use a tablespoon)
11. Coconut oil ( I put in a tablespoon for brain health and it's a good fatty oil)
12. Apple juice (just a splash during the blending if there's not enough liquid.
note: I use frozen fruit because it makes the drink cold without having to dilute the flavor with ice cubes.
This is not a low calorie drink. I've never counted calories so I have no idea how many are in it. I do consider it a meal though, which keeps me full for 3 hours. I usually drink it between an early breakfast and a late lunch or after a yoga class.
Now, I am always looking for new ways to make a green drink, so if you are a "Blender" like me, please share your recipe or blended drink tips below in the comments.