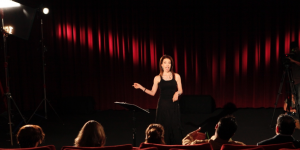 Jessica Sitomer is a funny, dynamic speaker whose talks are entertaining, uplifting, and educational. In addition to 20 years in the speaking business, she's produced a sitcom pilot and two television series; Prescriptions, a show within a show for MTV, and Lights, Camera, Action. She was involved in the production of Crazy in Alabama, Antonio Banderas' directorial debut, and has been known to improv with Colin Farrell while hosting the SOC Lifetime Achievement Awards. She is an international speaker and author of three books, including, And.. Action, Powerful, Proven, Proactive Strategies to Achieve Success & from Burnout to Bliss.

Join The Mailing List
Sign up to receive personal emails from me to inspire, motivate & empower you PLUS the first edition of "Conversation Igniter - 10 Conversation Starters" that will help you talk to anyone!