WHAT IS THE DIFFERENCE?
"Multi-level" or "network" marketing is a form of business that uses independent representatives to sell products or services to family, friends, and acquaintances.  A representative earns commissions from retail sales he or she makes, and also from retail sales made by other people that he or she recruits.  Examples of well-known multi-level marketing companies include Amway and Mary Kay Cosmetics.
Some companies call themselves multi-level marketing when they are really operating pyramid schemes or if the acts, methods, or practices are unfair, unconscionable, or deceptive.
It is understandable that consumers often have difficulty telling the difference between an illegal pyramid scheme and a legitimate multi-level marketing opportunity. Governmental regulators and the industry continue to debate where the legal lines are drawn.
Multi-level marketing is a lawful and legitimate business method that uses a network of independent representatives to sell consumer products.  Compensation must primarily be based on the sale of products and services to the ultimate consumer. This is how Savvi is set up, our consumer products being athleisure and everyday fashion wear.   
Pyramid schemes claim to be in the business of selling products to consumers in order to look like a multi-level marketing company.  However, little or no effort is made to actually market the product.  Instead, money is made in typical pyramid fashion…from recruiting other people to market the program.  Sometimes, new "distributors" are persuaded to purchase inventory or overpriced products/services when they sign up.
Savvi does not require you to buy and clothing, and if you want the clothes, you can purchase them using your commission profits, so you never come out of your pocket.   
Pyramid companies make virtually all their profits from signing up new recruits and often attempt to disguise entry fees as the price charged for mandatory purchases of training, computer services, or product inventory.
Savvi does not disguise any costs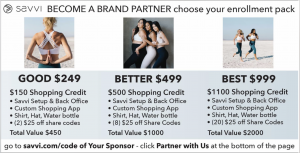 Pyramid schemes are not only illegal; they are a waste of money and time.  Because pyramid schemes rely on recruitment of new members to bring in money, the schemes often collapse when the pool of potential recruits dries up (market saturation).  When the plan collapses, most people, except the few at the top of the pyramid, lose their money.
I completely agree, and would never risk my reputation or put my friends and family at risk by involving them in something illegal! 
When investigating a multi-level marketing opportunity, you should ask about market saturation and determine the saturation levels in your area of distribution.  Legitimate companies do not have too many distributors in one area.
As Savvi is in pre-launch we have less than 12K Brand Partners, it is a ONCE IN A LIFETIME OPPORTUNITY:      
It needs to be a "ground floor" opportunity. Harvard Business School suggests that in order for the opportunity to qualify as "ground floor" the number of existing active distributors should be less than ½ of 1% of the population (300 million in the United States) in the country where this network marketing company exists. In the United States this figure is equal to 1.5 million people. Harvard Business School also stated that if there were less than 500,000 people involved, you would be on the cutting edge of a great opportunity. If the company has less than 100,000 distributors, Harvard Business School considers it to be a once in a lifetime opportunity.
There are four states of growth in a network marketing company:
Foundation:This usually lasts 6 months. This is the period when a company develops its product and marketing plan.
Concentration:This period lasts from 2 to 4 years when distributor network is started.
Momentum:This period lasts 2 to 4 years also. This is when the company experiences phenomenal growth. Both retail and distributorship explode in terms of expanding growth. It is during this period that a company virtually sweeps across the nation.
When a company's sales reach $50 million annually, they reach what is called "critical mass", (sales go vertical right off the graph). Also, approximately 2/3 of the company's growth of new distributors occurs during this period. When "Herbalife" reached 50 million in retail sales, they jumped to 151 million in retail sales in only 12 months. They also added over 800,000 to their organization.
Let us assume you have an organization which is producing an override bonus check to you of $1,000 per month. When the company reaches "critical mass", distributors automatically experience a ten fold increase in their earnings. In other words, $1,000 per month becomes $10,000 per month. This is the reason for getting involved on the "ground floor" so you will experience the benefits of explosion growth.
Stability:This period lasts for the life of the company. A network marketing company that is dedicated to the success of its distributors will experience longevity, thereby ensuring that an active distributor will realize continued earnings and growth.
Ask me about becoming a Savvi Brand Partner TODAY!