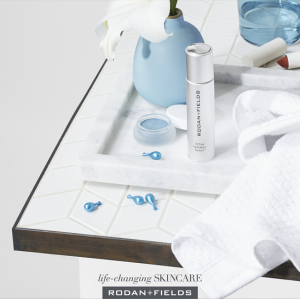 I admit… my sister's obsession with skincare baffled me. From the time she was a teen she was absolutely obsessed with lotions and serums. She had the cleansers, the toners, the moisturizers, and on and on and, always the newest, hottest brand. 
Me, on the other hand, I rinsed my face and removed my mascara with warm water (ewwwww.) Early in the Millennium, I was taken in at 4am by a super model's infomercial, and spent a few months with a skincare routine. But the auto-ship meant I had way more product than I could ever use so I cancelled. 
Over a decade later, I, like my sister, became obsessed. Why? Because I found skincare that actually works! I wouldn't have known the difference unless I'd tried this absolutely life-changing skincare line. And then I was shouting it from the rooftops…
Rodan + Fields. 
If you follow me on social media, drive behind my car, or have been to my website, you know what R+F is, because I love to spread the word. If you've met me in person, you know what it is because it always comes up in conversation, usually because I tell you how old I am and your jaw drops… then I tell you my secret… it's my skincare.
But why was this line the number 1 skincare in Nordstrom for 6 years when it launched in the "typical way" – high end retail stores. And why when our world-renowned Doctors pulled out of department stores and entered e-commerce sales, did we become the number 1 skincare line in North America in less than 8 years? And how did we become a billion-dollar brand in 8 years… it took Starbucks 20 years.
Because of the clinical results… It's the science y'all! I may have to stop saying y'all now that I live in Nevada. 
Here's a behind the scenes look at how and why the science works straight from our DermRF blog:
"We've seen the difference that intelligent skincare and great skin can make in people's lives, and we know that over-the-counter medicines can create visible differences, even transform skin. With Multi-Med™ Therapy, we combine pharmaceutical ingredients with active cosmetics in aesthetically pleasing formulas to deliver powerful results.
No single ingredient can effectively address a complex skin concern. By carefully pairing the right ingredients, in the right formulations and in the right order, we create products that visibly transform skin—making Multi-Med Therapy skincare science you can see!"
Here's what our very own Dr. Katy Rodan said: 
"After trying multiple over-the-counter (OTC) products that fail to deliver on their promises, many of my patients are ready to throw in the towel and take more extreme measures. But the issue isn't that topical products are incapable of working, it's that skin conditions have a complex origin. Because many factors contribute to the onset of a problem like acne or sun damage, no single ingredient nor product can provide a fast fix. And the "here today, gone tomorrow" products constantly popping up on the department store shelf perpetuate an approach of reacting to problems instead of preventing them.
Recently, a female patient came to see me to schedule an appointment for a fractionated CO2 laser treatment to address stubborn brown spots that hadn't responded to any products she'd tried in the past. Two years prior she underwent this treatment with another doctor and found it helpful. Reminding her what a serious, painful and costly treatment this was, I recommended the Rodan + Fields®REVERSE Regimen to her. Assuming "more pain, more gain," my patient was initially resistant. Luckily for her, I was able to convince her to try REVERSE in the short time between our consultation and her scheduled laser treatment.
A few weeks later, she called apologetically to cancel the appointment. The reason? REVERSE had worked so well, she didn't feel she needed the procedure anymore.
Apology gladly accepted! That's what our Multi-Med® Therapy product philosophy is all about: skin transformation, no appointment necessary. When you combine the right medicines, in the right formulations, in the right order and then use them consistently, you can achieve office-like results, at home. Less pain, and a lot more gain."
There you have it… it's the science in step 1, 2, 3 & 4 that makes this line different than any other. I promise you, the best skin care of your life! And if for some reason you don't agree, we have a 60-day, empty-bottle, money-back guarantee, so you can try at no risk. 
That was a lot of information, so if you have any questions for me, put it in the comments or, let me know what really stuck out for you. What didn't you know about R+F that you know now? I love hearing from you!