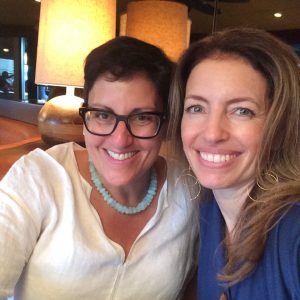 There I was, sitting at the airport, minding my own business… well, I wasn't really minding my own business. A guy asked if would keep my eyes on his phone which he trustingly plugged into the charger next to my seat. I told him sure, as long as I could answer it. Two phone conversations later, I noticed I'd caught the attention of a woman sitting diagonally from me. I'm always happy to entertain someone, even if it's with silly antics in an airport. She had a wrist full of cool looking bracelets, so I picked myself up, plopped myself down and, with her permission of course, took her arm and started admiring each one. I had no idea that this chance meeting was about to have such an impact on me.
You see, Julie has an incredibly strong purpose and she is determined to share her story with as many people as she can; parents, college kids, high school students, brothers, sisters, friends, and complete strangers in airports.
To know her story is such an unthinkable tragedy, which only happened in 2014, and to hear her tell it with such grace and love, that only a mother driven to protect other parents, brothers, sisters, and friends, from experiencing her pain, to me, makes her a warrior. You need- no you want, a warrior like Julie out there, sharing her story, reliving her tragedy, so that you or someone you love will never have lose what her family lost.
Which is why I have chosen the www.JoshELevineFoundation.org as the first foundation to donate to in my year of Giving & Receiving. I'm going to let Julie share her story, because it's not mine to tell. And should you feel compelled to join me, and donate to her cause, I would be humbled to know that this chance meeting, which turned into this blog entry, happened for a bigger reason. Here's a bit from Julie about her son…
"Josh graduated from the University of Michigan in May of 2014. He was a three sport varsity athlete in high school, majored in Sports Management at Michigan, and was a field manager for the Michigan football team.  After graduation, Josh worked as the Assistant Freshman Baseball Coach and was a substitute teacher at West Bloomfield High School in Michigan.  Once school was out, he took a sales job in the Chicago area.  After a month on the job, he decided to follow his passion and devote his life to teaching and coaching high school students.  
The day after giving his two-weeks notice at his sales job, Josh spent the day with his brother, Andrew, at a concert in Chicago.  Josh parted ways with Andrew after 11 pm to get together with college friends from Michigan.  He went to his friends' apartment where someone supplied Adderall that was snorted prior to going to the bars.
Josh was found unresponsive on the sidewalk of a Chicago street and was brain dead by the time he arrived at the hospital. Josh died on July 21, 2014, of acute alcohol poisoning that was enhanced by the effects of snorting Adderall… he was 22."
To me, the scariest part, which you learn when you speak to Julie, is Josh was not a regular 'drug user', he didn't frequently 'binge drink.' This was a senseless accident that occurred because Josh had no awareness of the risks involved in mixing Adderall with alcohol.
We all make choices. We tend to make BETTER choices, when we have more information. That's why I want to do my part in sharing Julie's story, inviting you to visit her website, suggesting that you donate what you can to help her further promote her awareness campaign, and asking you to watch and SHARE the special segment on CBS Sports aired on "Inside College Sports" which described Josh's story and Julie's mission to raise awareness and change the culture of binge drinking.
That day at the airport was just the beginning. I've since met with Julie for tea. We talked like old friends, knowing we were now new friends. I hope your takeaways are the same as mine: share this story with as many people as you can, in the hopes of educating and protecting your loved ones, and always talk to strangers with cool jewelry in airports!
Live passionately,
Jessica